Breakfast, Brunch, Lunch & Signature Cocktails
Another Broken Egg Cafe isn't your typical breakfast, brunch, or lunch restaurant. Our passion is delivering uncompromising, southern-inspired culinary innovation and "craveably" delicious dishes. On our menu, you will find chef-inspired, breakfast, brunch, and lunch dishes as well as hand-crafted cocktails, spiked cold brews, mimosas and a full bar.
What's New
Get In the Holiday Spirit with NEW Brunch Dishes & Drinks
Treat yourself to holiday delight with a new Gingerbread Waffle & a decadent Lobster Benedict only available this holiday season. Pair them with a cup of holiday cheer with our Gingerbread Rum Punch cocktail.
'Tis the season for brunch!
View Menu
Join the Coop
Get Free Beignets When You Join the Coop and Stay Connected with Our Latest News & Offers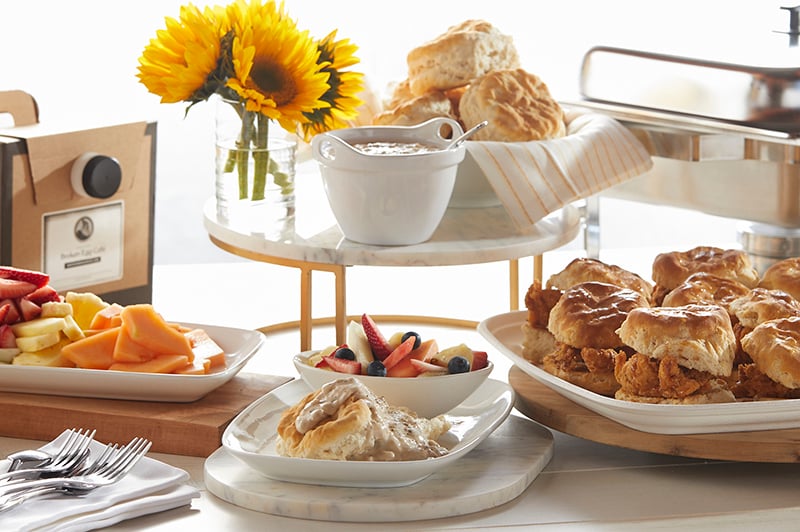 The Craveable Now Made Caterable
Craveable eats caterable for private events, office catering, and gatherings.
From Indulgences to Signature Brunch Specialties to Salads & Sandwiches, Another Broken Egg Cafe Catering is perfect no matter what size group. Choose from our specially crafted catering menu that includes French toast, scramblers, salads, beverages and more.
Order Catering